Project: Development and conservation in the upper part of the Cahabon river watershed.
Updated: September 2010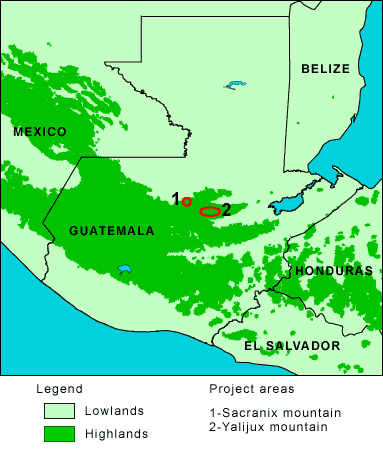 Project profile
The communities served by this project are located in the upper Cahabón River watershed in the Department of AltaVerapaz, 215 Km. from Guatemala City. The general poverty indices are higher than the national average, reaching 84%. Poverty principally affects the indigenous population of this rural area. These Q'eqchi' Maya families, are under-employed with few alternatives for work, most are illiterate especially the adult women, without access to potable water, without wastewater drain systems and without electricity. Paradoxically, this region is rich in a high concentration of natural resources that are adversely affected by the advance of the agricultural frontier and deforestation, which directly affects and the cloud forest and the sources of water that supply the region.

This project will alleviate this situation by establishing alternative agricultural production systems that permit the families to improve their quality of life, conserve the natural resources, protect biodiversity, and improve the health of the environment in which they live. Through education, the project will improve the life of 800 families, (200 original and 600 through passing on the gift). Thirty six original families will be provided with 180 rabbits, 252 turkeys, 81 sheep and 3,600 worms. The project will offer the families classes on natural history and environmental education, as well as methods of income generation which conserve natural resources and improve their relationship with their habitat. Biological monitoring will allow the monitoring of the environmental impact at the end of the project in 2014. Education and technical assistance will be provided by local personnel specializing in Q'eqchi' Maya language and culture.
Project objectives
Reduce forest fires in 40 communities bordering primary cloud forest. Relieve the pressure of clearing and burning natural forests and conserve biodiversity through the planting of and improved management of 800 family orchards (totaling 24,000 fruit trees, 30 per family) thus, increasing family income, and improving nutrition and food security.
Increase the production of 800 family orchards by implementing agro ecological systems which integrate small livestock and organic fertilizer production with the cultivation of basic grains, traditional vegetables tree fruits and native trees.
Conserve natural resources through improved understanding of the impact of economic activities of the communities on the environment. Monitor human impact on the natural environment and the impact of conservation efforts, through a program of biological monitoring of bird populations.
PROEVAL RAXMU accompanies local participants toward the accomplishment of these objectives takes a holistic integrated approach. Education is the basis for all of PROEVAL RAXMU's work. The greatest investment in this project is teaching, which focuses on nurturing community and building the capacity and understanding of participants.

Together with Heifer Project International and the project participants, PROEVAL RAXMU restores harmony to the mountains of Alta Verapaz; ecological harmony, harmony between the human population and it's natural environment, and peace among people. The Q'eqchi' word tuq'tu'quilal or tuq'tuquil usilal means peace, harmony, right balance, right relationship, the very goodness. As we practice passing-on-the-gift, we increase the sense of solidarity in our communities. As we share, we grow in caring. We grow in self esteem, as we gain power to help our neighbors restore life to both our natural and agricultural environments. The gift of living resources flourishes into an abundance from which we freely give. As we love our neighbors, love multiplies abundantly, with more to share. Together we restore tuq'tu'quil usilal.
Project period
July 2008 - June 2012
Project location:
Two areas are affected by this project (see map). The project focuses on the Sacranix and the Yalijux mountain.

Initial 20 Communities:
Yalijux mountain: Chicacnab, San Lucas Cakipec, Sequila', Sequixpur, Sesalche' I, San Vicente, Nuevo Amanecer Ulpan, Chelemha, San Antonio Las Puertas, Semesche', Bancab Sepoc
Sacranix mountain: Chituj, Catalji, Samac, Sacranix, Se'nimtaka, Ahinal Chinache', Champoc I, San Isidro, Chinacocom The project will spread benefit to at least 40 communities through the biological multiplier "passing-on-the gift".
Project components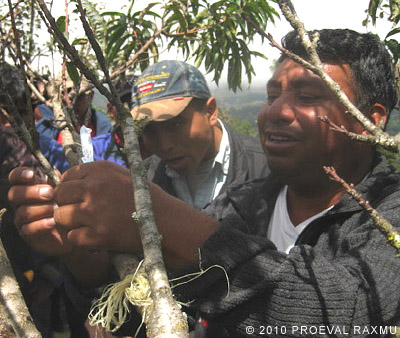 Education and Capacity Building
From July to December 2009, PROEVAL RAXMU staff has conducted 275 monthly educational sessions in each of 20 initial communities, with an average monthly participation of 407 adults, with equal participation of men and women. About 170 children also participate each month. PROEVAL RAXMU aspires to equip local promoters, 2-4 per community, to lead and implement conservation and development projects in their own communities and regions. In the fall of 2009, an average of 60 promoters studied in 2 promoter training courses in September and November, and 25 promoters in a learning tour to HPI projects, in Capelliania and Quilinco, Huehuetenango. Teaching by doing, practicing new techniques together on participants own farms, leaves examples in the community and assures first hand experience of participants. Original participants serve their communities as promoters. Repetition of PROEVAL RAXMU's emphasis on education in values, cooperation, agro-ecology, environmental concerns, ecology, community development, economic development gives participants the skills and capability to continue serving their communities toward self sufficient, sustainable development long into the future.
Strengthened Commitment and Organization of Community Groups
Seventy six families, members of 20 communities have signed contracts with PROEVAL RAXMU to fulfill responsibilities of caring for the environment, participation in monthly learning opportunities, working together for development of their own communities, sharing, self reliance, inclusive justice, and passing-on-the-gift. They have each identified in their contract, two disciple or follower families, who will receive the passing on of the gift of everything they receive from PROEVAL RAXMU: all learned skills and abilities, all seeds, all crops, all animals. Thus, they commit to double passing-on-of-the-gift. The 76 families and their followers meet monthly for education and to work together to implement the practices introduced to them in the educational workshops. Participating communities in the Sierra Yalijux include: Sapoc Bancab, Muyha, Semesche', San Lucas Cakipec, Chicacnab, Sequila', Sequixpur, Sesalche', San Vicente, Nuevo Amanacer, Chelemha, and Las Puertas. Participating communities in the Sierra Sacranix include: Chituj, Roca Samox, Sanimtaca, Samac, Sacranix, Chicojl Raxquix, Ahinal Xilanche', and Chinacocom.
Soil Conservation and Restoration
This semester, participants in the 20 communities replicated conservation and soil building practices learned the first year of the project, on the steep slopes of the mountains of the upper Cahabón River Watershed, where severe erosion and soil impoverishment have resulted from the clearing of the forests, agricultural burning, and annual cultivation.

Participants in each community practiced together the techniques of measuring level contour lines on their sloping terrain with the agricultural level-A. They continued the multiplication of planted living barriers to soil erosion along these contours. They multiplied in their own parcels a diversity of crops as living barriers, including animal forages, nitrogen fixing crops, traditional crops, flowers and fruits. They also helped their followers begin this conservation process. Between the contours of living barriers, the families will plant their milpa (corn) in the spring of 2010. The participants are learning lo apply their organic fertilizer between the contours in order to restore soil fertility and increase the production of the crops, both in the living barriers and between. This multi cropping of living barriers, fruit trees, and traditional crops with the milpa prevents agricultural burning, thus decreasing forest fires. Restoration of healthy living fertile soils to these steep slopes supports prolific agro-ecosystems for increased crop production and ecological sustainability.
Planting of Forage Crops
Participants must fill a pre-requisite to receiving animals. Each family must plant sufficient forage crops and maintain them in production, before they may receive their rabbits and/or sheep. Original participants, who already have rabbits multiplied forage crops received from PROEVAL RAXMU in September-October 2008, including forage grasses setaria, Costa Rican Napier, Cameroon and imperial, and broad leaf forages including dahlia, ramie, mulberry, and clavel and sunflower. They planted these forage crops along level contours as living barriers to soil erosion. Participants are multiplying all the forage crops received and dividing them for two purposes; first, to give to two other families as passing-on-the-gift, and second, to increase their own supply of forage for feeding rabbits, chickens and turkeys, especially this semester, in preparation for receiving sheep in the spring of 2010. Every passing-on-of-the-gift of rabbits has included the passing on of all forage crops received. Original participants teach their followers planting techniques for each crop.

In November 2009, while on the learning exchange visit to Capelliania, Huehuetenango, PROEVAL RAXMU purchased 36 gunnysacks of Dactilo grass seedlings for teaching a new technique of planting animal forage. The seedlings were divided between 99 families in the 20 communities, for propagation and multiplication. Priority was given to families most likely to be original recipients of sheep. Some of the Dactilo was planted for multiplication in a seed bank in PROEVAL RAXMU nurseries.
Rabbits
The giving of original rabbits, which began in March 2009 was completed in September. Each of 76 original families in 20 communities received 5 rabbits, 1 male and 4 females. Families received selected male rabbits of exceptional quality for production from different sources than the females, to prevent inbreeding. Participants studied improved management, nutrition and treatment of parasites. Passing on the gift of rabbits began in September 2009. Rabbit reproduction continues.
Organic Fertilizer Production and Application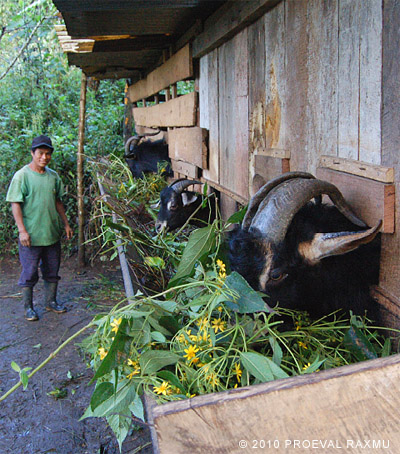 Central to the restoration of depleted soils and the improvement of agricultural production, is the production and application of organic fertilizers. PROEVAL RAXMU technical staff and promoters participated in a special seminar on red worm and organic fertilizer production hosted by the Guatemala Ministry of Agriculture, Livestock and Food in November 2009. All 76 original families have studied vermi-culture and worm compost production. Each family has constructed at least one 3 cubic meter worm compost box. Each family received 100 red worms. The participants have learned to harvest finished fertilizer and apply it to their fruit trees, milpa and vegetables. They have also learned to harvest the worms as high protein feed for their chickens and turkeys. Along with each passing-on-the-gift of rabbits, families pass on the gift of 100 red worms to their followers.

Fertilizer production is central to this project. Rural Q'eqchi' farmers annually go into debt to purchase chemical fertilizer used to grow corn intended for family consumption. On-the-farm fertilizer production is economically liberating in the short term. In the long term, the application of the fertilizer will restore life and fertility to eroded impoverished soils on which these subsistence farmers depend.
Photo documentation: Organic Fertilizer Production and Application
Orchard Management
PROEVAL RAXMU technical staff held workshops on grafting, pruning and orchard management October-December 2009. Each participating family has will plant and maintain a parcel of 30 to 60 fruit trees. Each participant that successfully grafts 30 fruit trees earns a high quality grafting knife and becomes a promoter in their community. Substantial improvement of fruit production will be realized in the subsequent years of the project as participants learn to prune and to apply the organic fertilizer to their orchards.

Instead of purchasing expensive grafted nursery stock, PROEVAL RAXMU teaches participants how to propagate fruit trees from seed and stakes. Together we collect and share locally available seeds, scions or stakes to start young fruit trees. PROEVAL RAXMU provided 11,200 tree size nursery bags to community nurseries in 2009. Some communities have planted community nurseries, others have opted to plant individual nurseries. PROEVAL RAXMU maintains a central nurseries of traditional crops, native trees and fruit trees for propagation and distribution in the communities. During the November-December 2009 school recess, 29 agro-ecology scholarship students planted native and fruit trees in PROEVAL RAXMU nurseries.

Fruit crops that have been given to the participants this year include: 460 scions of nectarine, 40 mulberry stakes, 24 nectarine trees, 24 citrus trees, 10 avocado trees, 5 macadamia trees and 35 blackberry bushes. Fruit tree seed was also given to communities for nurseries: 9 lb allspice seed, 9.5 lb loquat seed. PROEVAL RAXMU planted 10,000 stakes of plum to provide root stock for grafting improved varieties of plum, peach and nectarine for the autumn of 2010. Traditional crops that have been given to the participants this year include: 135 roots of aracach and 760 plants of medicinal herbs.
Photo documentation: Orchard Management.
Reforestation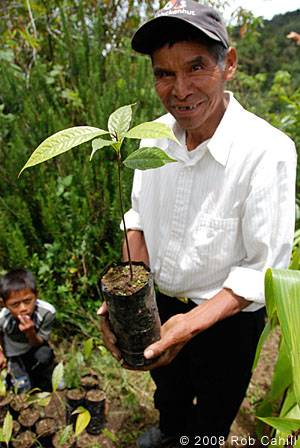 Native forest trees that have been given to the participants this year include: 94 lb oak seed, 1000 sweet gum trees, and 750 Aguatillo trees. Participants cultivated and maintained native reforestations in Sanimtaca, Chicacnab, Temal and Semesche'. As well as orchards, participants began planting parcels for firewood production, to take woodcutting pressure off the native forests.
Photo documentation: Reforestation
Passing on the Gift
PROEVAL RAXMU model of community development is based on the idea of disciples or followers. Every family participating in this project commits to empowering and equipping two other families with all the knowledge, experience, wisdom and living resources received. As families join the project, they sign a contract committing to pass on double of everything they receive. On the contract, they name the two other families that they will accompany in the process of ecological agricultural development. They teach two of their neighbors, all they have learned in the education sessions, working together with them, to implement the practices of soil conservation, planting forage crops, adequate animal housing and management, fertilizer production, orchard management and reforestation.

Participants pass on to both of their followers propagates of all forage crops received; shoots, stakes, scions or buds of all fruit and vegetable crops received; 100 red worms; 5 rabbits; 5 turkeys; and 2 sheep. Each participating family becomes a leader, a teacher, a donor. They give at least twice as much as they have received, 100>200 red worms, 5>10 rabbits, 5>10 turkeys, 2>4 sheep. As participants give more than they receive, they grow in compassion and self esteem.

The 76 original families are in the process of dividing and sharing forage crops, and helping build rabbit cages and worm compost bins. Twelve families passed on 5 rabbits,100 red worms and forage crops to 16 new families this semester.
Photo documentation: Passing-on-the-gift.
Promoter Training
Using the model of campesino a campesino, or farmer to farmer, teaching, the PROEVAL RAXMU is preparing 68 (2 groups of 34) community promoters to be leaders and teachers in their communities and regions. Two times each semester, these promoters meet to study together with Heifer Guatemala and PROEVAL RAXMU technical staff. Workshops are duplicated in the Sierra Yalijux and in the Sierra Sacranix.

Select promoters participate in a 4 day learning tour each semester to visit well established projects in Guatemala that have exemplary practices of different aspects of agro-ecology, animal husbandry and conservation. On these learning tours participants experience living examples mature projects which exemplify practices and techniques of agro-ecology, animal husbandry, conservation and community development. They exchange ideas and experiences with each other and their hosts. Promoters return to their home communities inspired and motivated to implement and share new ideas and insights.

In November 2009, 22 promoters traveled to visit the farms of long term Heifer animal husbandry and reforestation projects in Capelliania and Quilinco, Huehuetenango. On this visit, they were introduced to the role of sheep in the ecology of the farm and community. They were introduced to the husbandry of sheep. In this visit, they focused on the importance of the management and application of sheep manure in reforestation, and fruit and vegetable production. They expanded their knowledge of forage crops for cut and carry feeding of sheep enclosed in adequate stables for maximum fertilizer collection. Participants returned inspired by the hope of restoring life and agricultural vitality to communities formerly deforested and depleted of soil and water resources. They returned with increased dedication to planting forage crops in anticipation of receiving sheep in the spring of 2010.
Photo documentation: Promoter Training.
Ecotourism
PROEVAL RAXMU helps to developing community tourism programs in in Q'eqchi' communities of the Sierra Yalijux and Sierra Sacranix in order to put an economic value to the cloud forests. The communities of Muyha, San Lucas, Chicacnab, Sesalché, Semesché, Sequixpur, Chelemhá, Chicanutz, Santa Maria Semuc Champey, Sanimtaca and Rocja Pomtila, participated in workshops and on hygiene, human nutrition, cooking traditional foods, and cultural demonstrations. In special sessions this semester, they studied cooking of a greater variety of vegetables for improved family nutrition and increased diversity in the menu offered to ecotourism guests.
Photo documentation: Ecotourism.

Families of Sanimtaca put into practice what they learned, as they hosted Shalom Christian Academy, Chambersburg, PA senior class in October and the Heifer Project International-Guatemala Study Tour in November. Families participating in the project built bathing shelters and sanitary latrines. They learned to divide a private sleeping space in their homes for guests. They decorated their homes with traditional articles such as hand woven cloths, painted gourds, Maguey fiber hammocks and handbags. In addition to sharing with guests about their participation in agro-ecological projects, they planted a school orchard and reforested an area with 750 native aguatillo trees with Shalom students. (See Photos: doc 2) They celebrated a passing-on-the-gift ceremony with HPI Study Tour. They shared with both groups cultural festivities of dance, harp, and traditional festival foods.
Biological Monitoring and Environmental Education
Continued monitoring of the relative abundance bird populations in the Sacranix and Yalijux mountains. Field data are recorded by farmers who have been taught previously in conducting scientific bird counts.

Some of PROEVAL RAXMU's bird counters participated in the Guatemala Christmas Bird Counts to increase their familiarity with the migratory and native bird species of Guatemala. In these events, they give publicity to PROEVAL RAXMU and Heifer International efforts for restoring environmental stability and sustainability. They also help raise ecological consciousness and interest in conservation on a national level.

PROEVAL RAXMU hosted an environmental art workshop for children in Sanimtaca, where we helped the students plant a school orchard. PROEVAL RAXMU presented participative environmental education programs in the schools (K-6) of Roca Samox and Chituj.
Photo documentation: Environmental Education.
Project Director
Tara Jean Cahill, David Unger
Funding and Partners
This project is possible through the support of:

Heifer Project International Guatemala: funding of US$ 204,351.00 (Project Number: 23-1319-02) for a period of four years (July 2008 to June 2012) and two years of follow up without funds (July 2012 to June 2014).

Community Cloud Forest Conservation: funding support.

PROEVAL RAXMU Bird Monitoring Program and its supporters.

and other private donors.